apartment building Lagos Nigeria - 1004 flats is located in a strategic location in Victoria Island near the law school. If you work in Victoria Island, it makes sense to rent a flat in the 1004 apartment building blocks.
Here are a few things to know about the 1004 estate . . . the luxury apartment buildings arranged in clusters called 1004.
Air conditioners

. . . and all the stuff that make an apartment luxury apartment.
The entire 1004 apartment building or 1004 estate use central generators to ensure 24/7 power supply. However, each flat has its own prepaid electricity meter with prepaid card. So, you get electricity when you pay for it.
In simple words . . . the electricity supply in 1004 estate is "pay as you use".
Here's one thing I can tell you for sure . . . 1004 flats (the 1004 estate) is a great environment to raise kids. It is beautiful, appealing, organized, maintained, and stylish.
Apartment Pricing - Rental And Sale
The following prices were operational as at the time of this writing. Note that prices change over time. So, be sure to call for current prices.
Apartment Rental Price (unfurnished):
A. 2 bedroom flat - 2 million Naira per annum
B. 3 bedroom flat - 2.5 million Naira per annum
C. 4 Bedroom flat - 3 million Naira per annum
Apartment Sale Price:
A. 2 bedroom flat - 36 million Naira
B. 3 bedroom flat - 43 million Naira
C. 4 Bedroom flat - 46 million Naira
1004 Furnished Flats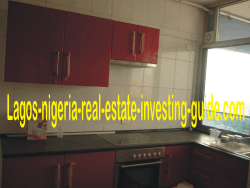 Some flat owners in 1004 estate have converted their flats into vacation rentals or short let apartments. These vacation apartments are tastefully furnished and provide a suitable alternative to hotel accommodation especially for folks on vacation with their family.


Furnished apartments in 1004 estate is also the ideal accommodation for company executives who want a break from the hotel environment.

What are prices like for these furnished 1004 flats?

Some furnished apartments in 1004 apartment building cost between 25,000 - 45,000 Naira per day depending on the level of furnishing (the class and style) and the property owner.

Wait. Isn't this too expensive?

Well, this may sound stupidly expensive at face value. But to be fair, compare this with hotel prices in the expensive Victoria Island area where the 1004 apartment building is located.

The cost per room of many hotels in the Victoria Island area is as high as 50,000 Naira per day. And that is just one room.

Compare that with the price of 3 bedroom furnished luxury in 1004 estate.

A typical furnished 3 bedroom flat in 1004 flat estate may cost 25,000 - 45,000 Naira per day. At 30,000 Naira per day, each room will come down to 10,000 Naira per room. Even if the 1004 flat was billed at 45,000 Naira per day, it will still come down to 15,000 Naira per room.
Guess what.
The three company executives occupying the 3 bedroom flat will still have access to a private lobby, the living room.
Amazing!
Want the best rental or sale deals in 1004 apartment building?
Simply contact us.
Related Content:
Buying A House ::: How To Build A House
How To Sell Your House ::: Bank Owned Properties
Investing For Income ::: Investing For Retirement
Return From 1004 Apartment Building Page To Lagos Nigeria Real Estate Investing Guide Home

Back To Apartment Guide Lagos Nigeria

Subscribe To The Real Estate Guide Newsletter For Free Investment Tips