Investing For Retirement Lagos Nigeria - Free Retirement Investing Guide



Investing for retirement Lagos Nigeria - This free retirement investing guide provides free tips for investing in Nigeria real estate.
What is investing for retirement?
Retirement investing simply means investing with the goal of being self-sufficient during your retirement days. It means investing with the sole purpose of having your investment generate income that will pay the bills when you retire. Some people call this investing for income.

The sad part is that a lot of people are not concerned about retirement.
They have a good job, live in a good house, drive a great car, and believe life will continue like this forever.
Consequently, they do not make investing for retirement a priority.
Here's the truth . . . life is never the same. Things change, life moves on whether you want it to or not.
What does this all mean?
It means that someday you will retire from paid employment . . . voluntarily or compulsorily . . . and whether you like it or not. And that retirement may be early retirement or late retirement.

What happens after you retire?
If investing for retirement was a key component of your expense sheet, if retirement investing was uppermost in your mind during your working life, you will have investments that generate consistent income month after month, year after year.
If that is the case, your standard of living will not drop drastically because you are retired.
Your kids will not drop out of school because you are required
Your landlord will not chase you out of your home because you don't have enough money to pay your rent and
Your life will not become terribly horrible and unbearable because you no longer work for that high paying blue chip company you use to work for.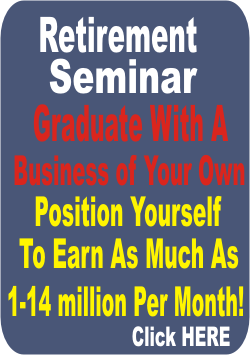 If you are in paid employment, this is the time to set aside money to invest in stuff that will pay the bills after you retire. If you haven't yet taken this seriously, this is the time to start.
Real estate investing presents a good opportunity for retirement investing because property values are constantly on the rise.
For instance, if you invest in a developing area with bad roads, prices will jump when government fix the roads and the area becomes more accessible to the outside world.
Thinking of investing for retirement?


Think real estate investing. Add real estate investing to your portfolio of investments.
Of course when you start out with Nigeria real estate investing, you will be a newbie. That is why I created the
beginners guide to investing . . . the portal that provides step by step guide to successful and profitable Nigeria real estate investing.
Bottom line.
Do not think that your retirement is a long time away. Start investing for retirement immediately you secure a job. If you are already in paid employment, start retirement investing right away.
Are you a business person?
Great.
Take retirement investing seriously. Invest big time in Nigeria real estate because business has its ups and downs . . . business may not always be juicy. When tough times come, your investment will come to your rescue.
Another thing.
A robust investment strategy will ensure that those tough times do not hit you in the first place.
Bottom line.
Start real estate investing right now, if you are not already passionate about it.
If retirement investing is already something you're keen about, ensure you add real estate investing to your investment portfolio.
I wish you a happy and exciting retirement.
P.S: Need extra cash to care for family expenses and save for retirement? Fill the registration form below to join a multinational health and wellness company that offers a brand partner business opportunity and give yourself a chance to earn thousands of dollars in extra cash every month.
NOTE: You need =N=142,000 to start this business. DO NOT bother filling the form below if you do not have the capital to start the business.

Back To Home Page From Investing For Retirement Lagos Nigeria