Custom Modular Home Builder Lagos Nigeria - Low Cost Custom Modular Construction.
Get A Free Quote!

Custom modular home builder Lagos Nigeria - Custom modular construction has the advantage of delivering modular homes that meet the exact specifications of modular home buyers. And that is exactly what you should demand from any modular home vendour . . . custom designs that meet your needs.
The good news is this . . . we are a custom modular home builder based in Lagos Nigeria.
This means you can now get custom modular construction that meets your specifications from a reliable modular home company based in Nigeria.
You probably noticed that our office is based in Lagos Nigeria. Does this mean we serve only the Lagos market?
Of course, not!
We are a custom modular home builder that deliver custom modular construction or custom modular homes to all nook and crannies in Nigeria.
Our custom modular construction services caters for the modular home needs of all the states of the federal republic of Nigeria.
So, wherever you live in Nigeria, you can order a modular home and get it delivered to you promptly.
Custom Modular Construction - How It Works
I mentioned above that we are a custom modular home builder that delivers custom modular construction to modular home buyers all over Nigeria.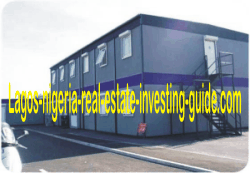 The next natural question is, "how do you buy one of our custom modular homes?"
The process is pretty simple.
Remember that the underlying word is . . . custom modular home.
This means we build you a modular home that meets your specification.
Therefore, the first step to buying a modular home from us is to agree on the modular home design you want.
So, when you contact us to buy a home, you send us some detail of how you want the home to look like. Then our design team will send you a custom design reflecting the details you sent to us.
After you look through the modular home design we sent to you, you then reply with your comments.
You may be 100% satisfied with the design or you may want us to adjust some items in the design.
If you want the design modified, we will do just that. Thereafter, we send the modified design to you.
When you're satisfied with the modular home design, we send you a quote for the design.
Pretty straightforward, right?
When we agree on the final design and price, we begin the custom modular construction.
Let me summarize what I just described above in bullet points.
The process of buying a custom modular home from us is as follows:
1. Custom sends request for quote stating design details
2. We send a design to the customer
3. Customer approves design
4. We send quote for the custom design to the customer
5. Customer makes payment
6. We start construction
7. We deliver promptly to customer's satisfaction
As you can see above, the process is pretty simple.
It starts with you requesting a quote.
Want a reliable custom modular home builder to build you exotic modular homes?
You're in the right place.
Simply fill the form below to request a quote.
P.S: Want to build quick homes . . . entire estates . . . for your community within a short period? Want to alleviate the housing problem in Lagos (or your state) with quick built modular homes? Fill the form below. We will surprise you and your community with custom modular construction delivered on time and with superior quality.
Just fill the simple form below.
Return From Custom Modular Home Builder Page To Lagos Nigeria Real Estate Investing Guide Home

Back To Manufactured Homes Guide Lagos Nigeria

Subscribe To The Real Estate Guide Newsletter For Free Investment Tips