Portable Cabins Lagos Nigeria - Portakabin Dealer And Builder.
Buy Quality Portable Cabin And Prefab Buildings. Great Price.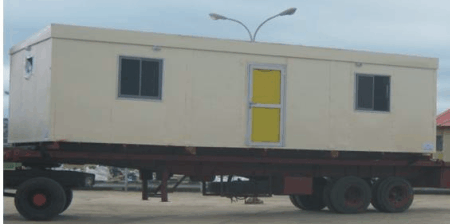 Portable cabins Lagos Nigeria - Portakabins are portable buildings that have the advantage of being movable or transportable from one location to another.
This fundamental advantage makes portable cabins or prefab metal buildings an indispensable part of our personal and business life.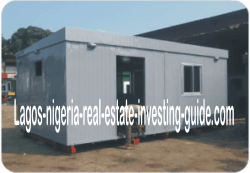 Unfortunately, there seem to be a dealt of quality information about made in Nigeria prefab cabins and the associated prices on the world wide web.
This section provides solid portable building (or prefab building) information and investment options.
Please note that we are portable prefab cabin builders and manufacturers. And we deliver Portakabins to cities, villages and destinations all over Nigeria.
Therefore, the information we provide here is based on actual practice, not theory.
Bottom line.
Even if you want a beautiful portacabin delivered to your village in the remotest part of Nigeria, we will build the prefab cabin and deliver right on time to your village, your town, or anywhere else you want us to deliver the portable cabins you purchase from us.
Ready?
Here is some basic portakabin information for you.
Remember . . . we are based in Lagos Nigeria but we serve prefab building customers all over Nigeria.
Prefab Cabin Basic Info - Common Sizes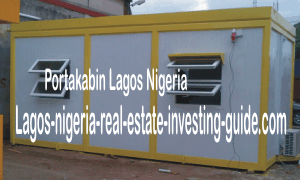 Portakabin values or prices depend on the configuration or plan of the portacabin.
Two portable cabins may look the same on the outside but the number of partitions inside the main structure (including the number of rooms) and the facilities included may result in a sizable price difference.
So, what are the common portakabin sizes?
See the list below:
Category 1: 1.2m by 1.2m (3.9ft x 3.9ft)
Description: Open office prefab cabin with steel structure, suspended ceiling, and electrical wiring
This size of portakabin is ideal for use as point of sale kiosks because their size makes them ideal for use even in small spaces and busy bus stops.
If you're an influential member of your company's marketing team, please recommend this portacabin size for your marketing drive. It is cost-effective and fits into any neighbourhood . . . even in small spaces on busy bus stops and commercial routes where business is brisk and good money can be made.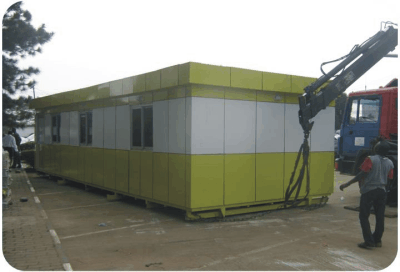 Category 2: 2.4m by 2.4m (7.8ft by 7.8ft)
This is a one-room office cabin and is twice the size of category 1 prefab cabin mentioned above.
If you have a bit more space, this size of portacabins are right for you.
This size of transportable prefab building works pretty well for office use.
Category 3: 3m by 2.4m (9.8ft by 7.8ft)
This size of cabin is slightly bigger that category 2 portacabin above and is suitable for use as office accommodation in small spaces.
This portakabin is small but not too small.
In fact, it is just about the same size as standard rooms in Lagos Nigeria. And it's big enough to take everything you will need in a small office.
Other prefab cabin sizes include:
Category 4: 6m x 2.4m (19.6ft x 7.8ft)
Category 5: 9m x 2.4m (29.5ft x 7.8ft)
Category 6: 12m x 2.4m (39.3ft x 7.8ft)
Portakabin Construction Materials
What are our portacabins made of?
Our transportable cabins and prefab homes consist of the following (just like a regular house):
1. The foundation
2. The structure of the building
3. The walls
4. The roof
5. The ceiling
6. The doors
7. The windows and
8. The electrical installation
9. Air conditioning
So, what are the different aspects of portable cabins (listed above) made of?
Let's shed more light.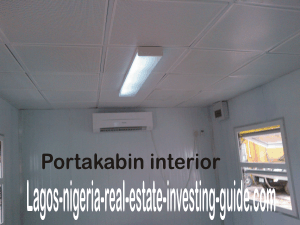 The Foundation: This is constructed from steel and therefore the portacabin can be transported from location to location and as often as the owner pleases.
The Structure: The structure is also made of steel. This is what holds everything together. The walls, roof, and ceilin are all connected to the structure.
This is what mades it a solid building.
The Walls: The walls of our portable cabins or portakabins are built from polyurethane insulated sandwich panels. This ensures good temperature control within the portakabin.
The Roof: The roof can be steel roof or polyurethane insulated sandwich panels . . . your choice.
The Ceiling: The ceiling is built from pvc suspended ceiling boards. Note that portacabins with PU (polyurethane) sandwich panel roof have no need for any ceilings but will we install ceilings if specifically requested by the customer.
The Doors: External doors (doors that open outside) are usually steel doors while internal doors are made of Aluminium. Doors can also be made from polyurethane sandwich panels if requested by the customer (for example, in cold room construction).
The Windows: The windows are usually Aluminium windows
Electrical Installation: We provide full electrical installation that powers all the facilities in the portacabin.
Bottom line.
We build ready to use portable cabins.
When we deliver your portakabin to you (whether residential, commercial or for office use), just move in and starting using it.
Remember that we build prefab buildings and prefab cabins to customers' specifications.
You tell us what you want and we build to your taste.
So, when we deliver our portable office cabins or prefab homes to you, just move in and start using them. Nothing else required.
Ready to own a premium office cabin, portakabin, or prefab home?
Fill the simple form below to request a quote.


Portable Buildings Back To Manufactured Homes

Return To Home Page From Portable Cabins Lagos Nigeria