Office Space For Rent Lagos Nigeria - Affordable Office Space For Rent. Free Tips.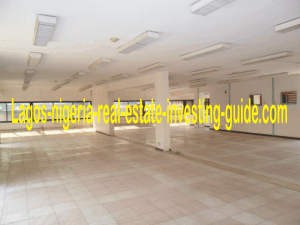 Office
space for rent guide Lagos Nigeria - The premium office buildings directory.
If you Want office space for rent anywhere in Lagos Nigeria or you own a commercial building with vacant office space, then this office buildings directory is for you.
Office apartments can be anywhere in Lagos Nigeria.

In fact, some buildings that were previously residential buildings have been converted to commercial real estate because the owners discovered that those properties will generate more income as if they convert them into office space for rent rather than as residential apartments.
Of course, there are certain areas that have been designated as industrial areas and others as residential.
However, the average Nigerian is struggling to pay a whole load of bills that outweigh what he earns. Therefore, every opportunity to earn more is highly welcomed.
That is why there is virtually no street in residential areas occupied by low income earners that doesn't have as many as three shops.
Actually, over 75 percent of houses on busy routes have some sort of shop (or shops) selling one item or another.

Yes, Nigerians are business-minded people.

How does this affect you, the individual looking for office space for rent?

Well, it means that you will find all kinds of houses and premises being used as office building. In fact, some residential buildings have office apartments sandwiched in-between.

For example, a block of four units of 3 bedroom flat may have one of its flats occupied by an office or a company. And many residential building owners make it a habit to build at least three to four shops in front of the main building.

Fortunately, some roads that were not commercial prior to now have become busier when the government tarred the roads. This means more traffic.

The result?

Even landlords weren't keen on having shops in front of their residential buildings have discovered that they are losing money.

Guess what.

Shops are cheaper to rent than standard office space in Lagos Nigeria.
So, in reality, it's a win-win situation for both the shop owner and the small business person looking for a small office apartment for rent where he can market his wares. And since these shops are right in front of the main buildings to turn out to be hot spots for business sooner than later.
Looking for office building for rent in Lagos Nigeria?
Choose from the list office apartments for rent below according to your budget.
Remember, your office doesn't necessarily have to be in the heart of town to do good business. Office apartments tend to be expensive when they are located at a busy bus stop. But then too, you have a chance to do good business because of the high traffic.
But as mentioned above, that does not necessarily mean your business will succeed. I have personally seen businesses in strategic locations close shop while some small ones on streets that are not so busy are still alive doing good business year after year.
Get the point?
Location is important. But so too is your business strategy and your marketing skill.
Related Content:
List Office Space For Rent In Lagos Nigeria
Do you have any office space for rent anywhere in Lagos Nigeria?

List it free in this office space for rent directory using the form below.

Clients who need them will find them here.

That is more business for you!
Office Spaces Available For Rent In Lagos Nigeria
Click below to see office space available for rent in different areas of Lagos Nigeria.

Make your choice.
Back To Home Page From Office Space For Rent Lagos Nigeria

Subscribe To The Real Estate Guide Newsletter For Free Investment Tips